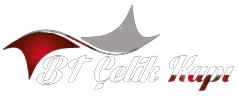 BT STEEL DOOR PRESENTATION FILM 2018'
You can get the most up-to-date information about our company and our products by watching the BT STEEL DOOR 2018 promotional film. In order to respond to the demands of BT STEEL DOOR consumers, every day develops itself and continues Research-Development works.
BT STEEL DOOR - Turkish Steel Door Company
BT STEEL DOOR, which never compromises design and safety, develops customized products with years of experience and technology. With this confidence, all our customers are recommending our brand. The locks, sheet metal, wood and accessories used in steel doors that will keep your love and your life and property safe with our newest models are both durability and long life span. At this point, we pay attention to ensure the quality and standards that consumers seek consciously and financially, and we have supported this with our TSE and ISO 9001 quality certificates and our 2 year warranty.
Interview with our founder Bekir TOGAN
Our founder Bekir Togan has shared his thoughts about the distance he has now and the future goals of our company with his Business World program audience.
RESISTANCE
Everyone wants to have the best steel door in their house. So it wants to have a solid and safe steel door. That's why when you buy a steel door you want to be sure of the strength of the steel door, make sure the steel door has a safety certificate against theft.
WATER, AIR AND WIND INSULATION
ÇSteel doors should prevent air and water passages in harsh climates. Thanks to the heat insulation, hot or cold air is prevented from entering or leaving the houses by means of heat bridges.
SOUND INSULATION
It is the type of insulation made to minimize the negative effects of sound. Controlling the propagation of sound in the environment is the most important purpose of sound insulation. For this reason, it is important to reduce the maximum sound permeability of your steel door.